It seems the hot beef between controversial actress, Tonto Dikeh and popular Nigerian Blogger, Stella Dimokokorkus is not ending anytime soon. Stella took to her social media page to react after Tonto, allegedly shared a picture of the blogger's husband saying that she has been hiding him from the public. All these are rolling in after Stella, accused Tonto Dikeh of eating Poo in Dubia.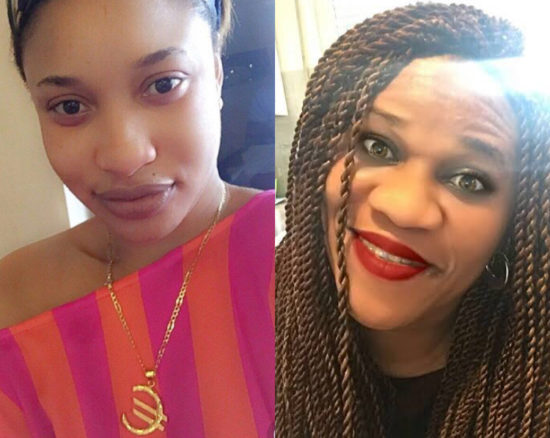 It was revealed by an Instagram account believed to be getting information from Tonto Dike, that Stella's husband is an alcoholic and a shoplifter, which has resulted to Stella hiding him from the internet.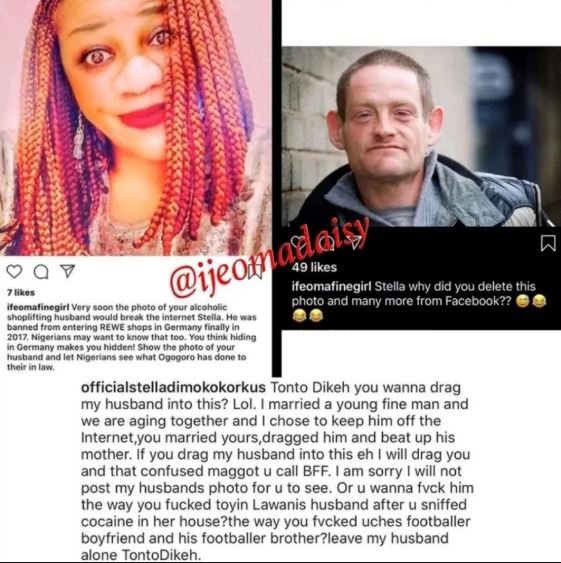 Stella, didn't deny the man said to be her husband but she fired back at Tonto Dikeh.
She wrote:
"Tonto Dikeh you wanna drag my husband into this? Lol. I married a young fine man and we are aging together and I chose to keep him off the Internet,you married yours, dragged him and beat up his mother. If you drag my husband into this eh I will drag you and that confused maggot u call BFF. I am sorry I will not post my husbands photo for u to see. Or u wanna fvck him the way you phyuked toyin Lawanis husband after u sniffed cocaine in her house?the way you fvcked uches footballer boyfriend and his footballer brother?leave my husband alone TontoDikeh".
She further wrote;
"t's Morning and I woke up feeling good and grateful for all those who reached out to me concerning my brouhaha with a pig on Monday. Seems I let a lot of people down by responding to the pig and her goat. I hereby apologise to everyone. This is my last post on this issue".
"Nothing I posted yesterday was a lie and I don't take it back but I am sorry for going low. My 2 phones almost exploded yesterday and I can't take more today oooh. …I walk away now not becos I am tired or defeated but becos it's time to apply common sense.how can I keep on with someone who has lost it all to drugs and no longer has common sense?..Abeg make una no vexs. I move on and will NEVER respond again…please no one should forward me anything they post again".
"Thank you.
Please oh who is this man? I know a few people looking for husbands and I wanna ask if he is single so I can do the connection🤣. This December over ten couples who met on my Blog will be getting married. I paid for the wedding dress of one and yesterday I sent money to two of them as my contribution. So u see I am a love Doctor. …so who knows this man?😻❤️ Have a beautiful day and don't let anyone push you over the edge or bully u into keeping quiet".